Garage Door Repair Services
Back To Our Services
Even with perfect maintenance, garage door problems may occur. The important thing is to recognize them on time and to deal with them right away. Find out what is needed to fix some common issues.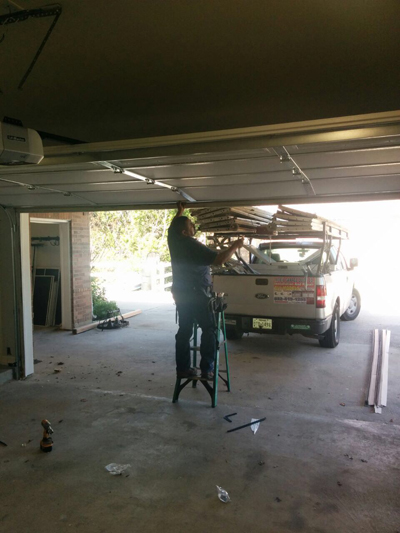 Garage Door off Track
Some of the rollers are not in their places and the door is uneven? This is the result of a snapped cable. Do not touch anything to prevent further damage. The cable has to be replaced right away. If the track is bent, it will require immediate repair too. Usually, the track can be straightened so that it can do its job properly once again. If it is severely bent or broken, the only solution is replacement.
Motor Fix
There are generally two types of issues with the opener motor - it either doesn't start or it makes grinding noise. In the first case, you should try all controls first to eliminate the possibility of faulty remote, keypad or wall button. When the problem is indeed with the motor, it will need repair. If it has failed completely, it has to be changed. The grinding noise typically comes from a broken moving gear inside the motor unit. It should be replaced and the problem will go away.
Replacing Extension Springs
They contract and stretch to open and close the door and keep it balanced. When a spring breaks, you will hear loud bang and the door will no longer work. In this case, immediate replacement is crucial. When you notice stretched or damaged coils, the spring may be able to work a little longer, but the door will certainly malfunction. That is why the component has to be changed as quickly as possible.
Garage Door Rail Repair
The rail is the long metal part going from the motor unit to the wall above the door. It is quite tough and rarely gets problems. However, if you see it protruding up instead of being perfectly straight, it has to be fixed quickly. The repair involves adjustment and straightening. Since this problem is typically caused by wrong travel and force settings, these need to be changed as well.
Having problems with the spring or opener? Count on us, at Garage Door Repair in Jensen Beach, to fix them. We work with doors and electric operators of all brands.
For using our professional garage door repair services, get in touch with us now.
Go over our website for more details on our company.